Cygnus-PFS - Affordability and Portability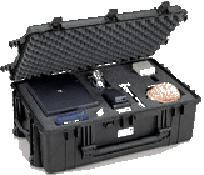 Building on more than a 20-year track record in image-guided surgery, COMPASS International introduces the Cygnus-PFS(tm) Image-Guided Surgery (IGS) System - the first portable frameless stereotactic system.
The Cygnus-PFS(tm) System is the most affordable and provides all of the capabilities of a $250,000 or $500,000 system necessary for localization of bone flap placements, craniotomies, and other stereotactic procedures.
Real time visualization of instrument placement on pre-op CT or MR images.
Multi-planar imaging options: Axial, Sagital, Coronal, Oblique, 3D Volume
Navigational images for location and trajectory of instrument. Oblique visualization also shows view perpendicular to trajectory.
Network capability.
The Cygnus-PFS System - shakes off unnecessary and expensive cabinetry and hardware, shrinking the price and concentrating all the computing power you need in a UNIX PC laptop and compact surgical image processor.
Portability frees surgeons from the cost and location restraints of single facility image-
guided technology. And the footprint covers only 20" x 20".
Choice of multi or single site use.
Lightweight portability.
Use less OR Space
Easy to assemble and disassemble without tools.
Affordable with low cost purchase, or lease-to-own option. The Cygnus-PFS System could pay for itself with less than 1 procedure a month.
All COMPASS IGS Systems should only be used by trained physicians who have been trained on the systems operations.
Caution: Federal (USA) law restricts this device to sale by or on the order of a physician.