Cygnus-PFS - Ease of Use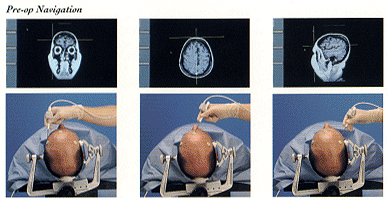 With an Electro Magnetic (EM) field of 3 cu./ft., surgeons have none of the line-of-sight problems of IR optical systems. The position of the instrument tip is detected anywhere in the field generated by the EM transmitter. The transmitter is simply attached to the three- point fixation device with multi-position mounting bracket. The fixed position of the head and transmitter eliminate error-inducing dynamic referencing.
The digitizer connects into the Cygnus-PFS laptop computer. Laptop software is user-friendly, fast processing speeds, and compatible with accessories.
| | |
| --- | --- |
| | For pre-op planning the surgeon can work at home, office, and just about anywhere. Using the Cygnus-PFS laptop screen, the surgeon views CT/MR image data or volumetric reconstructions to develop and evaluate different surgical access routes. In the OR, this same data is registered to the head anatomy of the patient using radiographic markers or patient anatomical points. Viewing is either on the laptop, or an optional remote 24" flat screen, or both. |
| | |
| --- | --- |
| For pre-op navigation, the surgeon uses "Display Tip" mode to view how the system is tracking the instrument in relation to the patient's fixed head position. The surgeon can use pre-op navigation either on the laptop or an optional remote flat screen, or both. During a procedure, the surgeon tracks an instrument's position in relation to the pre-op planning images either on the laptop or optional flat screen. Both screens can be used when multiple vantage points benefit the doctor, surgical team, and patient. With "Aim Probe," the surgeon can view trajectories and calculate distances from the probe tip to areas of interest on all available image slices, showing trajectory from entry point to possible target areas, or "Cross Sections" of traced volume boundaries. | |
| | |
| --- | --- |
| | New Intellitrak Metal Detection provides a GUI to the surgeon to detect any foreign metallic objects in the surgical area. The surgeon can re-orient equipment if needed. Intellitrak informs the surgeon if there is no interference from surrounding metal objects. |
All COMPASS IGS Systems should only be used by trained physicians who have been trained on the systems operations.
Caution: Federal (USA) law restricts this device to sale by or on the order of a physician.